On the eve of Valentine's Day, you want so much that all the holiday campaigns are as warm as possible. We have compiled a selection of fresh, stylish and, of course, mega-romantic ideas for designs to make it easier for you to create a gentle-gentle atmosphere in your communications!

Pass the creative baton to your audience
If there are no special ideas for Valentine's Day, just ask the audience to share theirs. In general, UGC content (user generated content – content that users create for brands) is always a great way to engage the audience, making it even more loyal.
Invite subscribers to make content about your campaign. Let them share romantic stories or tips of theirs, but remember to attach a link to your site. Real love stories always resonate.
Come up with an idea that will unite everyone
Sometimes, for something very cool and large-scale to be born, just one idea is enough. Become the main source of inspiration for your audience. Create a collage or collection with creative insights for Valentine's Day. For example, bloggers and influencers will definitely love the idea of ​​moodboards about creative romantic gifts.
Make a cute valentine
If you have time and a lot of craft materials, make your own Valentine's card. Such cards always evoke a lot of warm emotions. You want to neatly put them on a shelf or put them in a box, so that you can sometimes get them out and remember pleasant moments. Of course, creating a DIY postcard will take time, but the warm emotions are worth it.
Getting digital valentines is nice too! And creating them is much easier and faster – there are much more opportunities here. To make such a card, you need a few simple shapes, a couple of cute stickers, and just a few minutes.
Write a series of articles on Valentine's Day
Valentine's Day is celebrated in different ways. Someone buys gifts in advance, and someone does everything at the last moment. You will be useful to both audiences by sharing gift ideas or a selection of offbeat quotes for valentines.
Create delicate Valentine-themed graphics for your blog to attract even more readers. Crello already has a huge collection of original covers, banners and images for your holiday decorations.
Are you dreaming of images from your blog spreading rapidly across Pinterest boards? Then instead of adding a stock photo to the article, try stylizing it with graphics. It should be cool.
Share the love
Nowadays, almost all brands are preparing their campaigns for Valentine's Day, and it is extremely difficult to stand out in this sea of ​​content. But there is one sure way: come up with a strong idea. Dedicate your holiday activation not to lovers (as most do), but to charity – have an animal shelter or a children's hospital at the center of the campaign. And, of course, prepare powerful visual content to really powerfully promote your idea on social media.
Keep everything minimalist
You don't need to spend half a day to create one Instagram story or post. We are sure that we can do it in 2-3 minutes. The main thing is to say something important and do it faster than competitors, so that all the attention of the audience is completely yours. And if you remember that people focus on something for no longer than a few seconds, then each post should be made as cool as possible.
For the visuals for Valentine's Day, bet on the nostalgic vibe of the 90s – pink clouds will be just right. Such a retro style with a touch of romance will create an atmosphere in which you want to remember pleasant moments from the past and dream up how to repeat it all.
Send letters with love
Now about mailings. For Valentine's Day emails to collect clicks, you don't have to add tons of cute phrases and pink vignettes to those emails. It is much better to keep your newsletter simple – gentle and neat. But it is definitely important that all emails echo the visual style of the blog and social media campaigns. This will increase brand awareness across different channels and subtly remind you of yourself (and, for example, your sale).
Create an Instagram Themed Grid
Post 9-12 thematic pictures to your Instagram account to set your audience on a romantic wave. Also, invite users to share romantic stories with photos. The authors of the best stories can be given branded gifts, and as a bonus, publish their stories with holiday photos in your account.
Support everyone
In addition to lovers, there are also those who are without a couple (but because of this they are not particularly worried). Don't forget this part of the audience. Share your love with all users and let them feel your warmth. Prepare a giveaway or competition for those who do not have their own +1. This will help to rally the audience and (no matter how mundane it may sound) pump the user retention metric.
Don't forget about your pets! Gentle valentines with cats and dogs are an ideal postcard: they can be given to everyone, regardless of gender and age. We all love pets, so a valentine with a rabbit is a win-win for the brand.
Grab attention with rollers
Everyone knows that videos engage better than pictures. And February 14 is the perfect reason to make a video postcard with bears, hearts, chocolates and other symbols of love. Create romantic animated posts in Crello or break the rules and do something as strict or even brutal as possible – part of the audience will definitely like it.
You can make one animated postcard or a series of videos – a whole project about love or a selection of video quotes about relationships from cult films.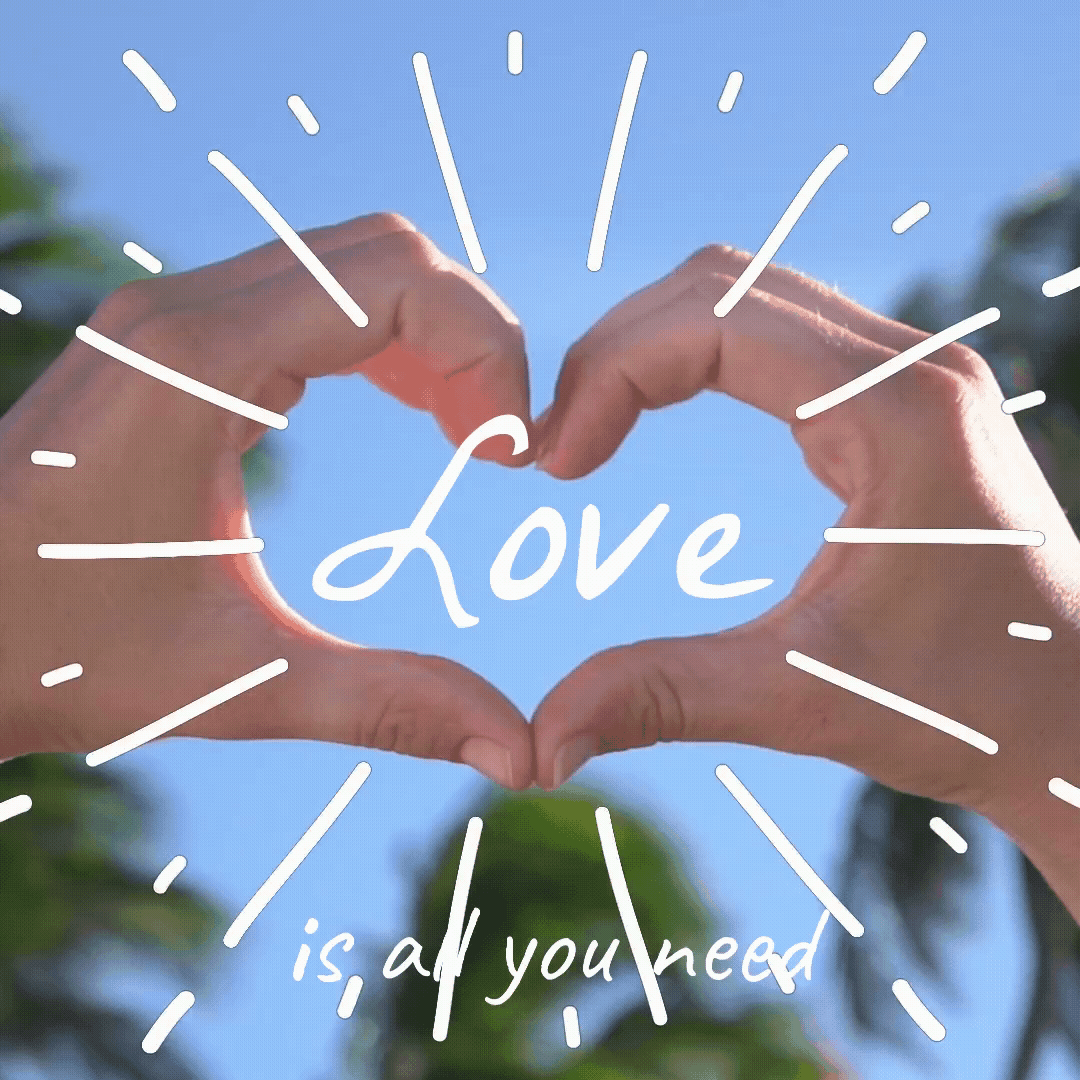 Love and create!
Valentine's Day is a great excuse to release content that puts feelings first. Whatever you sell and whatever your audience, on Valentine's Day, just tell your followers how much you love them – and let them share their feelings with you. Don't miss this opportunity! ❤️